Protect yourself from Lock Bumping
You may have seen the news recently regarding lock 'bumping', an old trick used by locksmiths for years, now being used by crooks to break into homes and businesses.
More and more, crooks are using a $3 tool called a "bump key" to open front doors. An old locksmiths' trick has found its way into the hands of criminals.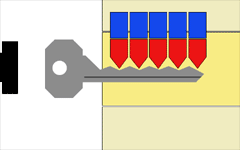 It's important to point out that we're not showing you the details of how to make one work or where to get them. We're only telling you about a trick crooks already know -- and they are using it more and more.
For decades, locksmiths have used carefully-cut keys that they "bump" to open nearly any mechanical lock. Thanks to the internet, their closely-kept trade secrets are now just a mouse click away. For only three bucks a piece, websites offer the specially-cut keys.
But the bad guys still need to know how to use them, right? Free online videos teach the technique. With enough practice, it's so simple, even a kid can do it. At least one boy has posted an internet video of himself using practiced techniques to open a lock.
This is a crime that is on the rise in Washington. Crooks are using these tools more and more. Now, you have the knowledge. So, how do you stop a bump key?
It starts far from your front door. You want to be sure you have good lighting. You want to be sure that your windows are clear so... you don't have a bunch of bushes covering where you could hide behind them.
Then, look at your locks. More expensive "high security" locks fight bumping with complex systems inside. These locks have been around for many, many years. They're very proactive toward defeating these methods.
At Knight Safe & Lock we have engineered a way to prevent Lock Bumping that can be implemented into your existing lock cylinders. By installing special tumblers and springs we can keep your door locks from being bumped. We also have High Security "Grade One" deadbolts that can withstand the most aggressive attacks.
We have the high end "Bump Proof and Pick Proof Locks"
Contact us for a free in home security analysis today.